Adding Chrome Custom Search for CFDocs

I read some complaints recently that the new Adobe documentation site is not friendly with a chrome custom search engine (because the URIs are different based on what the tag/function starts with).
If you want to setup a custom search engine in chrome, it is really easy:
Using Chrome go to chrome://settings/searchEngines
Scroll down to an empty text box that says Add a new search engine
In the first box type cfdocs.org in the second box type cf and in the third box type http://cfdocs.org/%s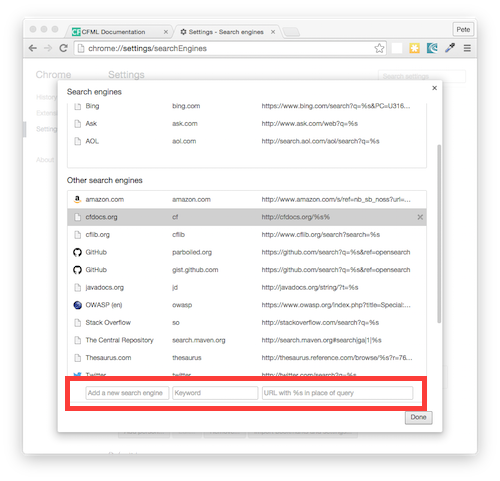 Now type cf followed by a space in the address bar, and then a tag or function name.
Like this? Follow me ↯
Tweet
Follow @pfreitag
Adding Chrome Custom Search for CFDocs was first published on October 16, 2015.
If you like reading about cfdocs, documentation, or chrome then you might also like: