Jobs: ColdFusion vs Ruby
The Ruby programming language is getting a lot of interest these days, thanks to the Ruby on Rails framework developed by 37 Signals' David Heinemeier Hansson. I thought I would see how it fares against ColdFusion using indeed's new job trends feature: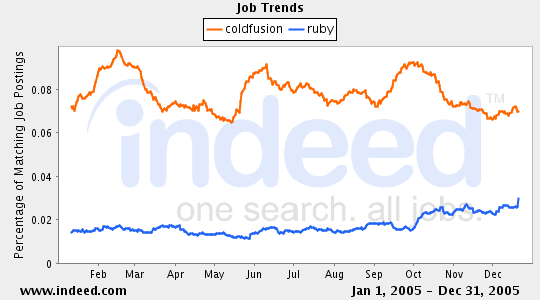 As you can see the word ColdFusion shows up in about 0.06 to 0.08% off all job postings. Ruby is currently at about 0.03%, but growing.
Like this? Follow me ↯
Tweet
Follow @pfreitag
Jobs: ColdFusion vs Ruby was first published on January 22, 2006.
If you like reading about ruby, rails, rubyonrails, coldfusion, jobs, or indeed then you might also like: