Make your blog better with tags

Of all the features that I've added to my homebrew blogging software tagging (or folksonomys) has been my favorite. Here's why:
Tag Clouds
I've designed the home page of my blog to make it easy for a first time visitor to know what my blog is about. Nothing does this better than the tag cloud of popular tags they are presented with: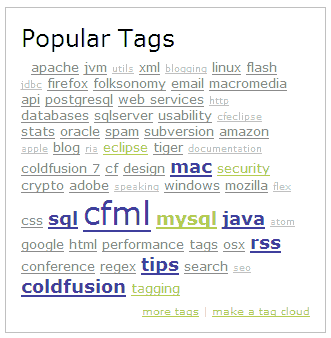 With a quick glance you can see that this blog is mostly about ColdFusion/CFML, but I also talk about MySQL, Java, RSS, SQL and Macs quite a bit - you would also notice that I like to share tips.
The point is that tag cloud describes my blog 1000 times better than any paragraph could.
(I wrote an article that shows you how I made my tag clouds)
Related Blog Entries
Another really cool thing you can do with tags is find posts that are related. I simply run a query to find the blog entries that have the most tags in common. Specifically, here's how I do it.
Related Books
Ever wonder how I display related books for my blog entries? I simply use my tags as keywords and query the amazon web services.
Tags as RSS categories
When you throw your tags into the category tag in your RSS feed, your post will be indexed by services like technorati. This means more hits from technorati because people subscribe, and search for tags they are interested in.
Meta Keywords
I use the tags for a blog entry to populate the keywords meta tag for each blog entry.
Tag Pages
Tag pages are the pages that list all the blog entries tagged with a particular tag. This is super handy when I'm looking for something I already blogged, for instance if I can see all my blog entries about CSS on one page. These pages will also generate a few more hits from the search engines (though not too many)
Like this? Follow me ↯
Tweet
Follow @pfreitag
Make your blog better with tags was first published on October 14, 2005.
If you like reading about tagging, folksonomy, tags, tag cloud, blogging, or blog then you might also like: