New Icons for Adobe's Next Product Line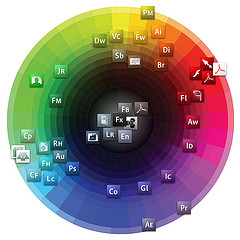 Adobe's new lineup of icons for the upcoming products including ColdFusion 8 (Scorpio), Adobe Photoshop CS3, etc. have been made public by John Nack, and they are generated quite a bit of reaction both good and bad.

Here's the new icon for ColdFusion 8. I could get used to it, but I think the current CF logo inside the gradient box would have looked better (like they did for flash).
Reaction:
What do you think?
Tweet
Permalink
|
Add Comment
|

add to del.icio.us
| Tags:
adobe
,
icons
,
branding
,
coldfusion
,
photoshop
Related Entries

Download FuseGuard WAF for ColdFusion
They are bad, specially coming from them. They invented Photoshop (sorry, Ps) after all. Will all the bad feedback make them change their mind?
I'm pretty sure Flash has two icons on there. The one with the classic Flash logo is probably for the Flash Player. "Fl" is probably for the Flash authoring environment.
I hate the icons - I find these blah. I'm a Mac user; it will be irritating to see these blah icons next to other application icons. I'll very likely replace the icons with the icons from the previous version or something from Iconfactory.
They are amazingly underwhelming! One think Macromedia were really good at was their branding and product identity. I see no reason why the current ColdFusion, Flash, Fireworks, Dreamweaver, Contribute et al logos should not be retained as they have made a significant impression. On myself at least. Perhaps Adobe are seeking our opinion on the matter - if that is the case "Adobe - stick with the cool logos Macromedia made".
Zzzzzzzzzzzzzz. Booooring. There's no style to it, it's just two letters in a blue box. There's no branding/distinction to it if you ask me. Pretty sad coming from Adobe. I agree, stick with the cool logos Macromedia made.
hi adpbe i think this icon can't expianation what is ColdFusion . i think if you add a ( code like <> ) is beter .
A couple pixel's worth of corner rounding might save them...
All I can say is someone was being very Lazy here. I really had enjoyed some of the staple icons such as the eye for PS.