Apple still likes their RSS icon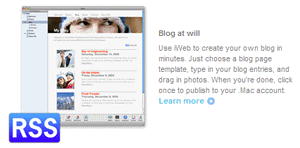 I noticed that Apple is still promoting their blue RSS icon in the marketing material for their new iWeb software in iLife '06. This despite the fact that Microsoft has said that IE will use same feed icon as firefox.
Many people think that Microsoft's move has created a de facto standard, but Apple appears to yet be on board.
Just FYI I plan on updating my sites to use the new icons, including SoloSub. Or if you want to contribute a new solosub button based on the feed icon let me know.
Like this? Follow me ↯
Tweet
Follow @pfreitag
You might also like:
The Firefox icon, if chosen as the standard, is a perfect example of how standards can go wrong. The icon is not clear and can mean a plethora of different things (radio, wireless connection, volume, audio, etc.) which would make more sense than RSS feeds. Good for Apple. They're totally right in not drinking the koolaid.
When I first saw the Firefox Feed Icon, I thought it was a volume control. It's pretty though... and looks much cuter than the blue "R S S" icon on Apple's page. I'm sure they can come up with something nicer... that doesn't look like an audio control.
Like they say: think different
Its now 2009 and I think that it is safe to say that the orange fella still rules!!!