Apple still likes their RSS icon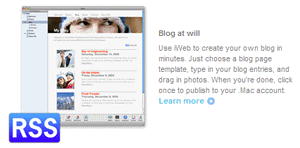 I noticed that Apple is still promoting their blue RSS icon in the marketing material for their new iWeb software in iLife '06. This despite the fact that Microsoft has said that IE will use same feed icon as firefox.
Many people think that Microsoft's move has created a de facto standard, but Apple appears to yet be on board.
Just FYI I plan on updating my sites to use the new icons, including SoloSub. Or if you want to contribute a new solosub button based on the feed icon let me know.
Like this? Follow me ↯
Tweet
Follow @pfreitag
Apple still likes their RSS icon was first published on January 10, 2006.
If you like reading about rss, feeds, xml, standards, apple, iweb, or ilife then you might also like: