Macromedia Site Search Broken
I just noticed that Macromedia's site search is throwing a coldfusion exception. Hmm no global error handler on macromedia.com?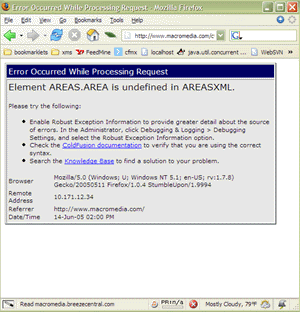 On a related note the search in MXNA doesn't seam to return any results either. Not a good day for search at Macromedia.
Like this? Follow me ↯
Tweet
Follow @pfreitag
Hi, Pete. I don't see an issue with either one. The MM search has probably been fixed by now, and MXNA seems to be working for me. What were you searching for?
MM search seams to be fixed. I searched for cfc, and mx in MXNA and got no results, found that to be strange, but other terms are working.
The next time you get an error, try out: http://www.macromedia.com/cfusion/build_data.cfm A nice little bird told me about that when I was having some problems. It will tell you the build number and the name of the physical server in which you are on. That might help someone figure out where the problem lies in the future.
A fix for the intermittent AREAS.AREA bug went into production on 6/16. Please let me know via email if you see it again. And include the info from the build_data page per Peter Farrell's comment!