Remove X-Powered-By: ASP.NET Header
Have you ever noticed that IIS tends to brand every HTTP response with the header X-Powered-By: ASP.NET - it will do this even if your site is not powered by ASP.NET!
Here's how to remove this header on IIS 6:
Open up the IIS Management Console
Right Click on a Web Sites and select Properties
Click on the HTTP Headers Tab
Under Custom HTTP Headers click on X-Powered-By: ASP.NET and click Remove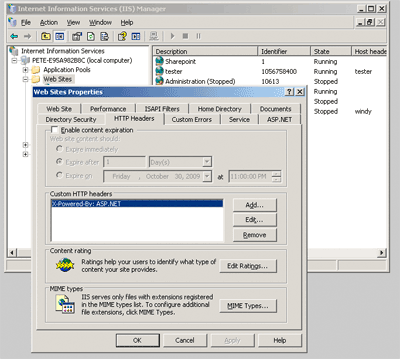 Here's how to remove it on IIS 7 / 7.5:
Open Server Manager and select the server name under Internet Information Services (IIS) Manager
Double click HTTP Response Headers
Remove the X-Powered-By header if it exists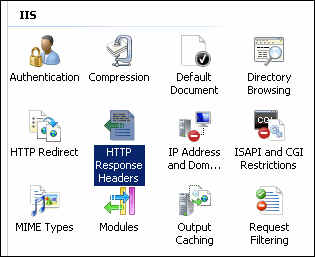 Thanks go to Nick Gleason for sending instructions and providing a screenshot for IIS 7
Tweet
Permalink
|
Add Comment
|

add to del.icio.us
| Tags:
iis
,
microsoft
,
windows
,
http
,
headers
Related Entries
Just a minor nitpick...in your directions above there should be a step in between 2 and 3 that says: "Click on Properties"
@Jake - thanks, updated.
How can we remove the 'X-Powered-By' response header, which leaks information about the server side technology?
http://www.ripoffreport.com/reports/park-ward-motors/cary-illinois-/park-ward-motors-rodd-sala-warning-do-not-buy-a-carthey-are-junk-cary-illinois-1044229 David Moore http://www.ripoffreport.com/r/David-Moore-/Los-Angeles-California/David-Moore-SHOCKING-LIAR-Lise-Winicki-Scammed-Me-Out-of-500000-to-stay-in-my-apartmen-1219243
I deliver lace wigs,bob wigs https://www.youtube.com/watch?v=ovU7TuvxKA8 virtually each day.