Freitag Bag's Store in Zurich


You may remember last year I posted about Freitag ® bags a company in Switzerland that makes messenger bags, ipod sleves, wallets, and more out of recycled stuff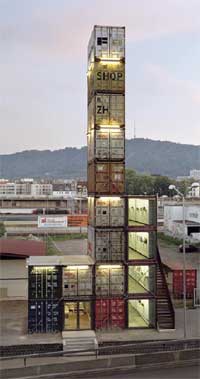 (vinyl truck tarps, seatbelts, and bicycle inner-tubes).
They recently opened a new store in Zurich that's made from recycled freight containers.
The FREITAG SHOP ZURICH is completely built from rusty, recycled freight-containers. Lovingly they were gutted, reinforced, piled up and secured. Zurich?s first bonsai-skyscraper: Low enough not to violate the city?s restriction on high-rise buildings. High enough to send shivers down anyone?s spine.
Thanks to John Benson for emailing me a link.
Here's some more photos:
Check out more photos on flickr.
Like this? Follow me ↯
Tweet
Follow @pfreitag
Freitag Bag's Store in Zurich was first published on October 06, 2006.
If you like reading about freitag, bags, recycling, zurich, or switzerland then you might also like: