Getting Married Tomorrow!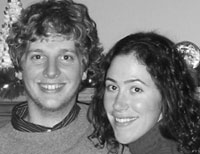 You may have noticed that I haven't been posting to my blog too frequently as of late. That's because, among other things, I've been very busy planning my wedding with my Fiance - Christine. The day has finally arrived, we are getting married tomorrow July 22, 2006! We are, as they say here in upstate NY wicked excited!
Tweet
Permalink
|
Add Comment
|

add to del.icio.us
| Tags:
pete
,
christine
,
wedding
Congratulation! Have a great day!
Congratulation! And please do not forget to come back posting new entry in your site :-)
Congrats. Long lives and happiness.
congrats - thats really great and as tom mentioned ;) dont forget us ;) our blog readers
Congratulations and best wishes!
All the best Pete.
Congras and good luck
My congratulation and all the best!
Congrats Pete!
Congratulations my man! Hope everything goes smoothly :)
Congrats Pete! The wedding was a lot of fun!
Wish you happy married life. Please take time to post to your blog in between also.
Congratulations Pete !
Congratulations. Hope all went well and that you enjoy your lives together.
Congrats! The fiancee and I are going through all the wedding planning stuff right now!
Must be the year for CF weddings - I'm getting married Sept 23rd..
Congratulation!The wish from China :)
Kevin, Good luck. I am a lurker here and wanted to send wishes. Bob L.
Damn those who got married before me and did not tell me, and damn those who got married after me and did not ask me. Unknown. Congratulations.
???~~????~~ ????~~ Congradts~~ Come from China! Love forever!
hey Congratulation atlast you caught in the trap have fun
Hey Pete, gratz on the big step. Funny thing is I just got married on the exact same day!
Thanks Everyone! The wedding went great, and the honeymoon was awesome (we went to St. Lucia).
Best wishes Pete.
Congrats! I have been married for 5 years and its great. Enjoy..
Congratulations Pete and All the best..
Congrats, Pete!
Congratulations Pete! Keep up the good work.
Best wishes to both of you!!!
Dont know how I missed this, but please accept my belated congrats!
Congrats to u guys & may u both hav a long lasting marriage!! check out some e-cake I got for u both here : http://www.pjlighthouse.com/2006/09/04/cheese-cakes/