Getting Married Tomorrow!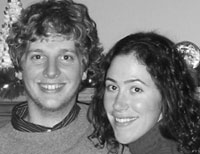 You may have noticed that I haven't been posting to my blog too frequently as of late. That's because, among other things, I've been very busy planning my wedding with my Fiance - Christine. The day has finally arrived, we are getting married tomorrow July 22, 2006! We are, as they say here in upstate NY wicked excited!
Like this? Follow me ↯
Tweet
Follow @pfreitag
Congratulation! Have a great day!
Congratulation! And please do not forget to come back posting new entry in your site :-)
All the best Pete.
Congrats Pete!
Congratulations my man! Hope everything goes smoothly :)
Congrats! The fiancee and I are going through all the wedding planning stuff right now!
Must be the year for CF weddings - I'm getting married Sept 23rd..
Congratulation!The wish from China :)
Kevin, Good luck. I am a lurker here and wanted to send wishes. Bob L.
hey Congratulation atlast you caught in the trap have fun
Hey Pete, gratz on the big step. Funny thing is I just got married on the exact same day!
Thanks Everyone! The wedding went great, and the honeymoon was awesome (we went to St. Lucia).
Best wishes Pete.
Congrats! I have been married for 5 years and its great. Enjoy..
Congrats, Pete!
Congratulations Pete! Keep up the good work.
Dont know how I missed this, but please accept my belated congrats!
Congrats to u guys & may u both hav a long lasting marriage!! check out some e-cake I got for u both here : http://www.pjlighthouse.com/2006/09/04/cheese-cakes/