Getting Married Tomorrow!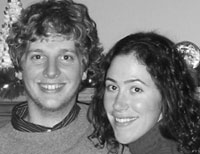 You may have noticed that I haven't been posting to my blog too frequently as of late. That's because, among other things, I've been very busy planning my wedding with my Fiance - Christine. The day has finally arrived, we are getting married tomorrow July 22, 2006! We are, as they say here in upstate NY wicked excited!
Like this? Follow me ↯
Tweet
Follow @pfreitag
Getting Married Tomorrow! was first published on July 21, 2006.