SkypeIn Review

I have been using SkypeIn service from Skype to receive and make phone calls over the internet for about 4 months now. I thought I would post a short review for anyone considering using the service. I also wanted to post some things that Skype can do to improve the service.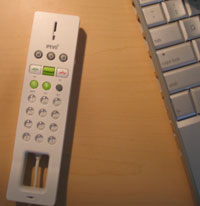 What do I like about it?
I think the most compelling reason to choose skype right now over other services is the range of devices that work directly with skype. They support bluetooth headsets, a range of USB phones (here is the phone I use), WiFi phones, and even devices that you can plug a regular phone into.
I am also a fan of the price. Since I'm bootstrapping my own business SkypeIn and SkypeOut can save you a ton of money as a business phone.
What I don't like about Skype
The Skype client leaves much to be desired. When you get a new voice mail it shows up in your events. You have to click on the phone number of the person that left the message to play the message. Everywhere else in the program clicking on the phone number dials the phone number. This inconsistency makes it confusing.
Voice Mail also seams to be stored on the client computer. If you use more than one computer you may end up with voice mail on different computers. Which can be a pain!
It would be really nice if they could either email them to you as MP3's. Or it would be nice if you could login to their site and listen to them.
The address book in skype is also really limited. There doesn't really seam to be any way of editing your SkypeOut contacts. You have to make new contacts for each phone number a person has (pete work, pete cell, pete office).
And finally it would be really nice if they formatted phone numbers so you can read them. When you get a call from 12345678901 it is kind of hard for your brain to process all those numbers. It could be formatted better based on the country code. And for bonus points why not add where the person is calling from. In the US you could gather the state from the area code, outside the US you could display the name of the country, and perhaps more info depending on the country.
Like this? Follow me ↯
Tweet
Follow @pfreitag
SkypeIn Review was first published on May 02, 2006.
If you like reading about skype, voip, phone, bootstrapping, skypein, skypeout, voicemail, or ipevo then you might also like: