USB Phone for Skype on Mac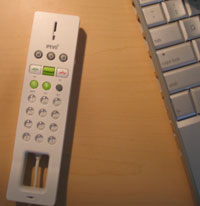 I mentioned previously that I was looking at voip phone services. I decided to go with Skype, and finally got around to getting a USB phone. I ended up going with the IPEVO Free-1 (pictured on the left) mainly because it was one of the few USB phones I could find that supports Mac OS X (it also works well on Windows BTW).
Overall I like the phone it has good quality. It was a lot smaller than I had expected, but it turns out it is just the right size.
The only thing not to like, is the cable - eventually I will probably get a Wireless Wi-Fi Skype Phone, but they are still very new, and kinda pricy. You can also use Bluetooth headsets with skype now. I considered using a bluetooth headset, but I decided that I wanted something that I can dial.
As you can guess device support is one of the main reasons I went with Skype. This IPEVO phone has a button that calls up (it will launch the program, or focus the window if already loaded) skype on your computer, you can then scroll through the contacts, or just dial a number.
You can get it from the IPEVO WebSite or from Amazon.
Like this? Follow me ↯
Tweet
Follow @pfreitag
You might also like:
Hi There, The Ipevo phone is great but there are also some other brands out there (such as PolarIP) that are producing Skype USB phones. Check out the guys at www.skypestyle.com who appear to sell every USB phone there is!
Yes but the PolarIP doesn't work on Mac as far as I can see.
www.i-voip.co.uk have full reviews on most phones, i would suggest trying them out. Sam
Just found that the tiptel 217 wireless will work on my powerbook g4 after I downloaded the simplyphone callme mac software from http://www.simplyphone.lu/index.php?t=UserGuideMac wireless skype on my mac; cool!!!!
Guys I have a YT 806, in every appearance a black version of the Free 1. It doesn;t seem to work on my Mac. The spec of the Free 1 doesn't mention Mac. How have you got it functioning? Phil.