24 Ways to impress your friends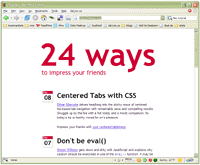 I am on a roll with provocative blog entry titles today. This is not my own however, it's the tag line for the 24 ways web site.
The site started on December 1st will post on web development each day until December 24th. So far the articles have been pretty good, they are short, focused, and of worthy subject. They are covering JavaScript/AJAX, CSS, typography, and more.
Like this? Follow me ↯
Tweet
Follow @pfreitag
I think you meant "post on web development" not "post a web development" Pete. :)
Indeed elliott, thanks - fixed!