Amazon Adds Tagging

I just noticed today that you can tag products on Amazon, check out this screen shot: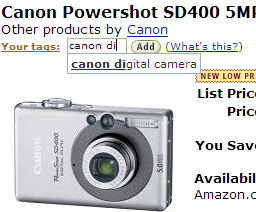 I wonder if they will be providing access to this through their API? Perhaps Jeff Barr, or someone else over at Amazon Web Services could let us know. You can already tag amazon products on third party sites like swagroll.
Like this? Follow me ↯
Tweet
Follow @pfreitag
Amazon Adds Tagging was first published on November 15, 2005.
If you like reading about amazon, tagging, tags, folksonomy, or web20 then you might also like: