Fresh coat of paint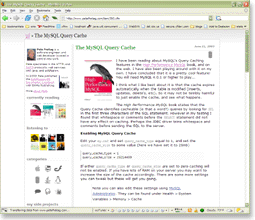 I decided to redesign my blog today, I was getting really sick of the old design, which has been up for a few years now. As you can see the new design is not too far off from the old one.
Most of the main content layout is the same, except you will notice the related books are back, and this time they are much more relevant. I am using the tags from my entries as keywords to search amazon, rather than using the contextual search api that amazon provides (it doesn't work very well).
Other than that I just condensed the side content. I will probably tweak that a bit more as time goes on.
Comments welcome.
Like this? Follow me ↯
Tweet
Follow @pfreitag
Fresh coat of paint was first published on August 19, 2005.
If you like reading about design, or blog then you might also like: