Fresh coat of paint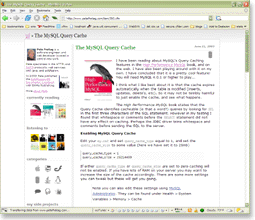 I decided to redesign my blog today, I was getting really sick of the old design, which has been up for a few years now. As you can see the new design is not too far off from the old one.
Most of the main content layout is the same, except you will notice the related books are back, and this time they are much more relevant. I am using the tags from my entries as keywords to search amazon, rather than using the contextual search api that amazon provides (it doesn't work very well).
Other than that I just condensed the side content. I will probably tweak that a bit more as time goes on.
Comments welcome.
Tweet
Permalink
|
Add Comment
|

add to del.icio.us
| Tags:
design
,
blog
Related Entries
Pete, the site looks great.
not looking too good on Firefox/OSX here - everything is centred, and the Related books are overwriting the Trackback line. did you write the blog code yourself? I'm still trying to find a decent one .. :)
Ramtops, you may have the old style sheet cached, try forcing a reload. I am writing this comment in firefox on osx, and things are looking fine. I did write the blog code myself, and perhaps if I get some time I'll make it available some day.
ah hah - that did it. I should have realised; I've been having horrible problems with CSS caching myself recently.
Wow, I like the new look. Good Job!
Thanks John!