How to Disable the Safari RSS Feature

If you don't use Safari as an RSS Feed reader (I use bloglines), the feature can get kind of annoying. Every time you click on an RSS feed, it is redirected to a feed:// url. So to disable it, you need to first enable the Debug menu on Safari, this is done by typing the following into the Terminal (via mac osx hints:
defaults write com.apple.Safari IncludeDebugMenu 1

Make sure you quit safari before running that command.
Then you simply need to select Turn off RSS Support in the Debug menu in Safari: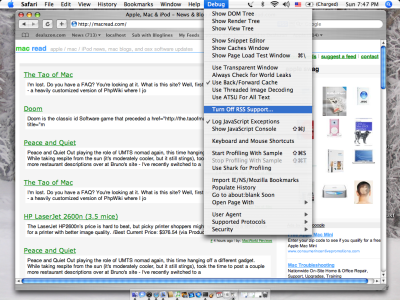 Ideally I'd love for an extension that allows me to click the RSS button, and subscribe with bloglines, like you can in Firefox.
Like this? Follow me ↯
Tweet
Follow @pfreitag
How to Disable the Safari RSS Feature was first published on August 07, 2005.
If you like reading about safari, rss, mac, osx, tips, or bloglines then you might also like: