New Homepage Design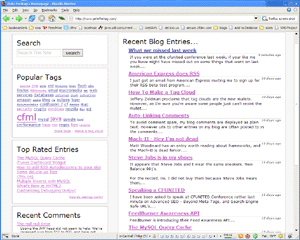 I redesigned my homepage last week. My goal was to help readers find some of my older posts that may be interesting.
So to start, I added a prominent search box at the top left, I simply use google's search my site for this feature. I may end up switching to CFX_Google so that the search results will stay on my site.
Next I implemented a tag cloud using the most popular tags. Though I haven't tagged all my old entries yet you can use this to find any blog post I have written about coldfusion 7, for instance.
Below the tags I list the top rated entries on my site. These are picked via a democratic voting form found on each blog entry. I can also use this feature to find out what posts you don't like, though I won't feature those on the main page.
Under the top rated entries I list recent comments posted to my site.
Finally below that I make my RSS feed stand out, it can often be very difficult to find someone's rss feed.
I am considering adding randomly selected entries to the home page as well.
What do you think?
Like this? Follow me ↯
Tweet
Follow @pfreitag
New Homepage Design was first published on July 05, 2005.
If you like reading about homepage, blog, design, or usability then you might also like: