Mac Users on the Rise
I know that my visitors represent a very niche portion of the internet - but I have noticed that the number of Mac users on this web site has spiked this month.
In January of 2005 4.3% of my visitors were on Mac's, so far in May of 2005 12.4% are Mac users.
Here's a graph showing the last 5 months: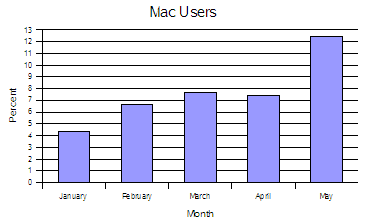 On our company site, which also gets a lot of technical folks - Mac users went from 2.5% in January to 3.4% this month. Its also interesting to note that in January Linux users were also at 2.5%, and are down to 1.7% this month.
I wonder if Tiger, or Mac Mini's have something to do with this? Has anyone else noticed the increase in Mac users in their logs?
Tweet
Permalink
|
Add Comment
|

add to del.icio.us
| Tags:
mac
,
stats
,
macintosh
,
apple
Related Entries
I don't track trends but my current rolling average shows about 8% Mac visitors on my blog: http://www.sitemeter.com/default.asp?action=stats&site=s11avblogcf&report=19 The more interesting stat in my mind tho' is browser share: http://www.sitemeter.com/default.asp?action=stats&site=s11avblogcf&report=13
Browser share has been changing for the past year or so, my current browser share for this site is: IE - 41.6%, FireFox - 36.7%, Safari - 9.9% But this is the first I have noticed a big gain for Mac share.
A guess: maybe it's due to the fact that your site is linked off the OS X Downloads page on your widgets info page (which you'd assume has very high numbers of Mac users). And, like me, they are just following the link to see what you "normally" do (when not writing widgets).
On our (non-technical) site about 2.3% of our users are on Mac OS X. It hasn't changed drastically at all in the last few months. My guess is Mountain Ash is right regarding the links. Hopefully one day 12% will be a reality!