Mac Users on the Rise
I know that my visitors represent a very niche portion of the internet - but I have noticed that the number of Mac users on this web site has spiked this month.
In January of 2005 4.3% of my visitors were on Mac's, so far in May of 2005 12.4% are Mac users.
Here's a graph showing the last 5 months: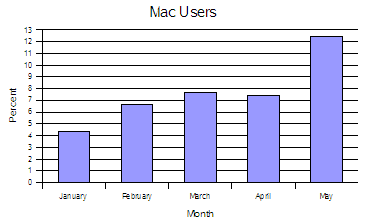 On our company site, which also gets a lot of technical folks - Mac users went from 2.5% in January to 3.4% this month. Its also interesting to note that in January Linux users were also at 2.5%, and are down to 1.7% this month.
I wonder if Tiger, or Mac Mini's have something to do with this? Has anyone else noticed the increase in Mac users in their logs?
Like this? Follow me ↯
Tweet
Follow @pfreitag
Mac Users on the Rise was first published on May 11, 2005.
If you like reading about mac, stats, macintosh, or apple then you might also like: