Web Standards Browser Test

The Web Standards Project has a new web standards test for browsers called the Acid2 test. No web browsers can currently pass the test. Here's what Firefox (1.0.2), and IE (6 sp2) did on my computer: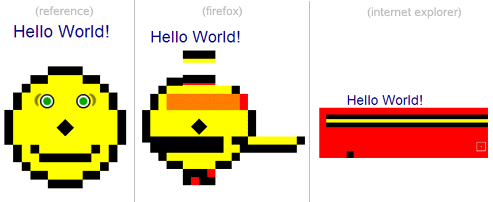 The test assumes support for HTML 4, CSS1, PNG, and Data URL's (a method to encode data such as an image). Some of the things tested include:
Transparent PNGs
The object element
Absolute, relative and fixed positioning
Box Model
CSS Tables
Margins
etc
Dean Edwards gives his odds on which browser will win: Safari 1/3 odds - the favorite, Opera 2/1, Firefox 5/1, IE 20/1, IE7 Patch 100/1
Like this? Follow me ↯
Tweet
Follow @pfreitag
Web Standards Browser Test was first published on April 14, 2005.
If you like reading about web standards, css, firefox, safari, ie, or standards then you might also like: