QuickSilver
I have read things about QuickSilver for a while, but never got around to trying it. Well I finally installed it, and had my ah-ha moment with it.
QuickSilver is a launcher for Mac OSX, I know I thought I didn't need one either, but once you try it you will see how fast it is to launch your programs. If you like using shell's because you can do things quickly in them, then quicksilver is for you.
How it works
So let's say I want to launch Eclipse. All I have to do is press a hotkey (I use command + space) and start typing the name of the program, so I type an e, and then a c, and quicksilver has already narrowed it down to Eclipse for me, so I just hit enter.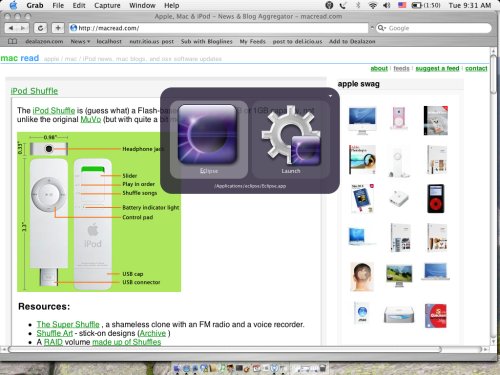 You can use quick silver to launch much more than just apps though, you can access contacts, songs with iTunes, url's, etc.
Tweet
Permalink
|
Add Comment
|

add to del.icio.us
| Tags:
mac
,
quicksilver
,
launcher
Quicksilver is really a nice application to have and wish there was a windows alternative as well. In any case, check out the Quicksilver category within the 43 Folders blog for some useful tips and hints. http://www.43folders.com/quicksilver/
You should check out PC-Com if you use Windows. PC-Com can do just about everything that Quicksilver can, and it even has a few extra features, like a macro recorder and note creator. The website for PC-Com is http://www.boletrice.com/pccom
Isn't this like Spotlight actually does?
I just joined up to ask a quick question, I wanted to spy on my girlfriend to see if she was cheating, does this work ? http://bit.ly/faPFa0
Hi there!

I'm a 24 year old single mother of 1. I came across this forum and wanted to say hi!

So, hi! :)
There's a lot of useful information. It helped me a lot.
System Requirements Windows 98, ME, Windows NT 4.0, 2000, XP, Vista, 7 Microsoft Office 2000, 2002/XP, 2003, 2007, 2010 Intel Pentium processor, or equivalent 256 MB RAM minimum 10 MB of hard-disk space for program installation VGA 16 color 640x480 screen resolution or higher Convert PDF to Word, Excel, PowerPoint, Publisher and More Get quick, accurate, transfer of native PDFs into editable MS Word and formatted MS Excel spreadsheets for editing, analysis and other reversioning. Other conversions include PDF to PowerPoint (PPT), PDF to AutoCad (DWG & DXF), PDF to Publisher, HTML and Text <code>http://adf.ly/9f4pa</code>
And as for the shoes themselves, absolutely amazing. Extremely comfortable, good looking, and very warm. Please note that the sizes DO NOT run small.