The Genius of iPod Pricing
Who ever came up with the pricing on the iPod models is a genius. I was talking to a friend yesterday who was shopping for iPods. He was saying how he has no idea which model to get, because the next model up always offers more storage with a better price/storage ratio. And for just $50 more you can usually double your storage, or come close to it.
Take a look at the price per GB on the different models:
Here's a graph: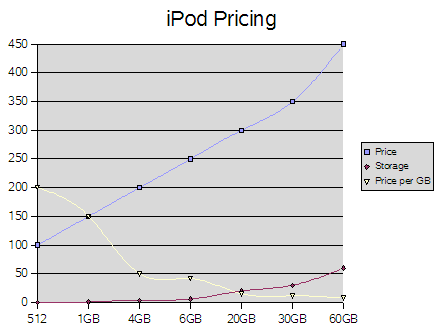 The reason this pricing is genius, is because you can start out thinking you want a $100 ipod shuffle, and then you can logically justify going with the 60GB iPod photo (if your thinking about price/gb)
I told my friend the mini is probably a good bet for him, he is probably going to use it for the gym, and for driving most. I have a 15GB iPod and I only have only put about 8GB worth of songs on there, even though I have a lot of music, I don't need, or want it all on my ipod, I keep music I listen to often on there.
How full is your iPod?
Like this? Follow me ↯
Tweet
Follow @pfreitag
The Genius of iPod Pricing was first published on March 31, 2005.