Virtual Desktop Manager for Windows XP
The other day I blogged about a virtual desktop manager for Mac OS X - if your interested in getting one for Windows XP, you can get one from Microsoft's PowerToys download page. To enable it right click on your taskbar, goto the Toolbars menu, and select Desktop Manager.

I found the program to be a bit clunky (of course I already have two monitors hooked up, so I don't really need it on my XP computer), I have used a virtual desktop manager on windows in the past that came with my video card, and it had much better performance.
There are also other handy tools such as the ClearType tuner. If you have not enabled ClearType on your computer, your eyes will thank you once you do!
There is an Alt-Tab replacement that shows screen shots of your running applications. I don't really like this one though because it wastes a lot of space (this is resized to smaller than actual size):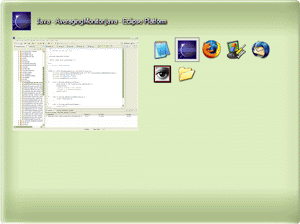 A tool that lets you resize an image, or images when you right click on them.
The Tweak UI tool, is also pretty handy - it lets you set lots of UI options for Windows, IE, Desktop, etc. For instance you can tweak how quickly a mouseover hover is recognized. You can configure which programs are allowed to show up in the recent applications list in your start menu. You can also change the location of My Documents, My Music, etc.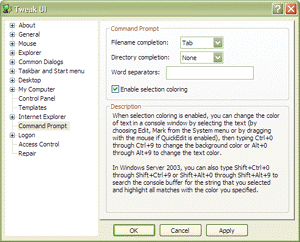 Like this? Follow me ↯
Tweet
Follow @pfreitag
Virtual Desktop Manager for Windows XP was first published on February 22, 2005.