Expose for Windows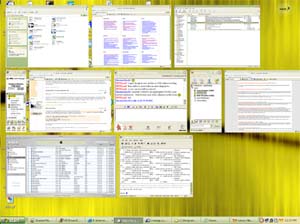 Exposé is definitely my favorite feature in OSX, and just the other day, I found a Windows version of Exposé called iEx.
iEx does the job, but it can be a bit flaky. For instance if you hold down F9 you computer will sketch out, and sometimes you need to force the window to redraw after you select it by moving or resizing it. If you have too many windows open sometimes they don't all fit on the screen (I'm not sure how Apple handles this). It is also not nearly as fast as Apple's Exposé. I'm running iEx on a 2Ghz P4, and it takes about 1-2 seconds for the thumbnails to show up, and on a slow Mac they will show up pretty much instantaneously
I found this on Jason Shellen's blog where he mentions two other programs that mimic Exposé:
Knock-offs of the Expose feature of OSX are plentiful. I purchased WinPlosion (formerly WinExpose) Price: $9.95. WinPlosion is a bit slow and not really worth the money. Here are a few others that mimic this feature on Windows as well: iEx Price: Free. Windows Exposer Price: $7.
Like this? Follow me ↯
Tweet
Follow @pfreitag
Expose for Windows was first published on April 14, 2004.