New Balance 991 Review
Updated on December 06, 2023
By Pete Freitag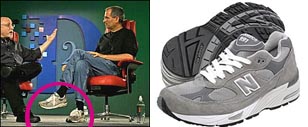 It appears that Steve Jobs and I wear the same sneakers. New Balance 991's.
For the record, no, I did not buy them because Steve Jobs wears them. I have had them since January or so and they pretty nice.
I will be wearing them when I run the BoilerMaker Road Race next month in Utica, NY. It's the largest 15k race in the country! And always a lot of fun.
Via: The Unofficial Apple Weblog:
There's nothing new about celebrities creating fashion trends. Ashton Kutcher and his trucker hats. Madonna in the 80's. But how does this happen with a guy who wears the same outfit every time he appears in public?
New Balance 991 Review was first published on June 23, 2005.
Tweet
Follow @pfreitag