CFDUMP For JavaScript

Of all the tags in ColdFusion, CFDUMP has to be one of the handiest tags. Any ColdFusion developer who uses the tag has probably at some point wanted to use it in other languages.
Well thanks to Brian Love for pointing me to this handy javascript dump script, it's output is even inspired by ColdFusion's CFDUMP tag.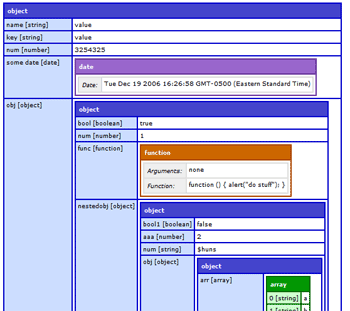 This will be very handy for working with JSON!
You should also checkout FireBug for debugging in JavaScript, I have been using it for a few weeks now, and it is rockin!
See Ben Forta's: Dumping Flex Objects, and dbug for php.
Like this? Follow me ↯
Tweet
Follow @pfreitag
CFDUMP For JavaScript was first published on December 19, 2006.