a9 Search Engine adds Yellow Pages

Amazon's search engine a9 has just added a pretty slick yellow pages directory.
One of the new features a9 yellow pages offers is something they call block view - they basically strapped a camera to a car and drove around Atlanta, Boston, Dallas, Chicago, New York City (Manhattan), Denver, Los Angeles, Seattle, Portland, Oregon, San Francisco and the Bay Area taking pictures of storefronts. So when you search in one of those areas you also get a picture of the storefront along with your results.
But even if you don't live in a metropolitan area, there is a handy mapquest map with the results annotated on it.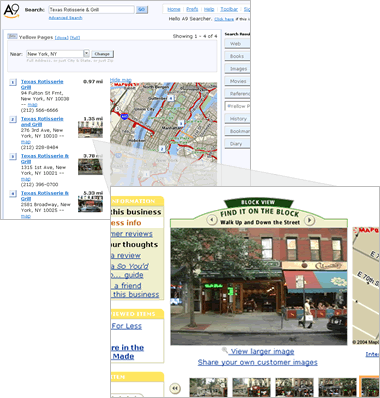 Like this? Follow me ↯
Tweet
Follow @pfreitag
a9 Search Engine adds Yellow Pages was first published on January 27, 2005.