Redirect Foreign Amazon links to Amazon in your Country
Suppose your reading a book review by someone in the US, they have a link to the book on amazon.com, but you live in the UK. If you have the Amazon.co.uk localizer installed any link to an amazon product outside of the UK is replaced with a link to amazon.co.uk. Pick your country below to replace foreign amazon links to your country's amazon.
Localizer's are provided for Amazon.com (US), Amazon.de, Amazon.fr, Amazon.co.uk, Amazon.ca, Amazon.jp, and Amazon.at
Step 1 - Install GreaseMonkey
GreaseMonkey is an extension for the FireFox browser, Install it. You will need to restart FireFox after installing the plugin.
Step 2 - Right Click on one of the links below, and select "Install User Script"
Please select the amazon locale that you shop in:
Note: To right click on a Mac - press Ctrl and Click your mouse.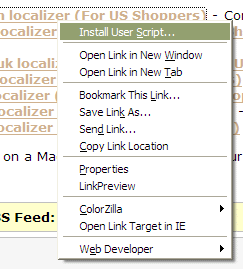 Step 3 - Refresh this page and Test it
Here are some links you can use to test it: Link to Amazon.com Amazon.co.uk Link
Please note: Only direct product links are translated. If there is a link to an amazon category for instance these are not changed.
Disclosure: In Associatation with Amazon.com, Amazon.co.uk, Amazon.ca, Amazon.fr, and Amazon.de